As a result of relentless NSW bushfires we have some seriously deady air here in the capital.
The official reading has been rated as "the worst in the world". The IQAir AirVisual website, which collates air quality information globally, ranked the nation's capital above "the likes of Kolkata and Delhi in India".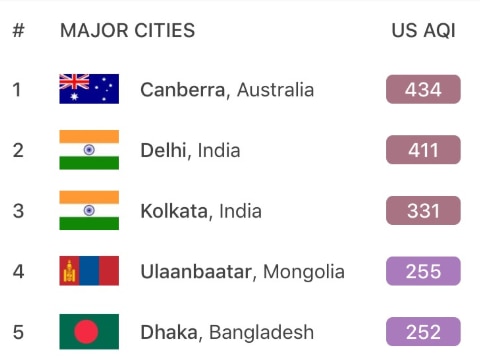 Many Canberrans have opted to wear a facemask when venturing out. There was a long queue of locals outside a suburban building supply company at 7am today wanting to stock up on heavy duty face masks which had already run dry at Bunnings and other retail outlets. But things get serious tomorrow (Sat Jan 4) when the temperature is predicted to reach 42 degrees and stong winds are forecast.
Chief Minister Barr has declared a "state of alert" as a "precaution" in the event of a local bushfire threat
For most of the year Canberrans, like many in other parts of Australia have staged rallies protesting the inaction of the LNP government on climate change.
Canberran Emily who suffers from a chest complaint is very concerned and frightened about the quality of the air, described the recent days as "apocalyptic and just foreshadowing how much we have let go in terms of what we really value".