Sydney's nastiest feud over as Jones comforts Laws in his time of need

March 7, 2020 — 12.00am
Alan Jones and John Laws were at the centre of one of Sydney's great feuds in 2004, but it appears even the deepest wounds can heal, especially in grief.
Theirs was a headline-grabbing cat fight, sparked after Jones left his old 2UE stablemate and jumped ship in 2001 to join 2GB in a mega-buck deal orchestrated by then owner John Singleton.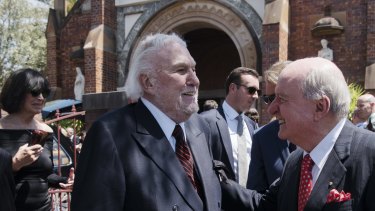 Jones took most of 2UE's listeners and advertisers with him. Laws was furious – with his radio star already waning, Jones had delivered a lethal blow and before long Laws was gone.
He famously called Jones "a vicious old tart" on air. Jones remained silent, saying he would not comment on "rubbish".
Laws added further salt into Jones' already raw wounds by going on Andrew Denton's Enough Rope to say Jones would be a "gold medallist" if "hypocrisy were an Olympic sport".
Laws, who along with Jones had been embroiled in the cash-for-comment saga, also revealed on his radio show that not long after the scandal, Jones had instructed former prime minister John Howard to reinstate David Flint as boss of media watchdog the Australian Broadcasting Authority.
Laws – who to this day remains unrepentant over his "loyalty" to sponsors – labelled Jones, Flint and Howard as "an unpleasant little troika".
By that point it appeared Laws had burnt any remaining pylons still standing under his old, rickety bridge with Jones.
Or so it seemed.
On Tuesday Jones joined a cavalcade of VIPs to support his old foe during the funeral of Laws' wife, Caroline, at Darling Point's St Mark's.
Jones magnanimously stood by Laws' side as the radio star, wracked with grief, bade farewell to the love of his life, the woman he endearingly called his "Princess".
Following the funeral, a clearly moved Jones told PS: "The grief endured by the legendary John Laws was both visible and beyond what anyone could be expected to endure."
"I felt it was important to be there so that he knew, at this time, he would not be on his own. It was moving and inspiring that a 44-year relationship could mean so much as to produce such an overwhelming sense of loss at Caroline's passing."
And it appears the rapprochement will endure.
"I have indicated to John that I am here for a cup of tea if it would help," Jones revealed.
Last November, at Laws' former agent John Fordham's funeral in Paddington, PS observed that old rivalries between Laws and Jones were buried, for just a few hours at least, as the radio titans cheekily traded jibes outside the church.
For many years it was Fordham who was the meat in the sandwich between the pair, who for decades waged battles over egos and ratings.
Jones had initially walked right by Laws to say hello to someone else, apparently not seeing the shock of snow white hair as Laws hovered around the crowd, his not inconsequential frame stooped over a walking stick.
But Laws' pride was hardly feeble, and he was having none of it, shouting out to Jones somewhat incredulously: "Alan, you did not say hello to me!"
Jones, looking mortified, turned and shook hands. Smiling at each other the old radio titans spoke of their respective health issues and Jones said: "It's good to see you."
And no doubt it was again for Laws when he clapped eyes on Jones at St Mark's on Tuesday.